Salsa, Bachata and Kizomba

Schedule Autumn semester 1 – 2023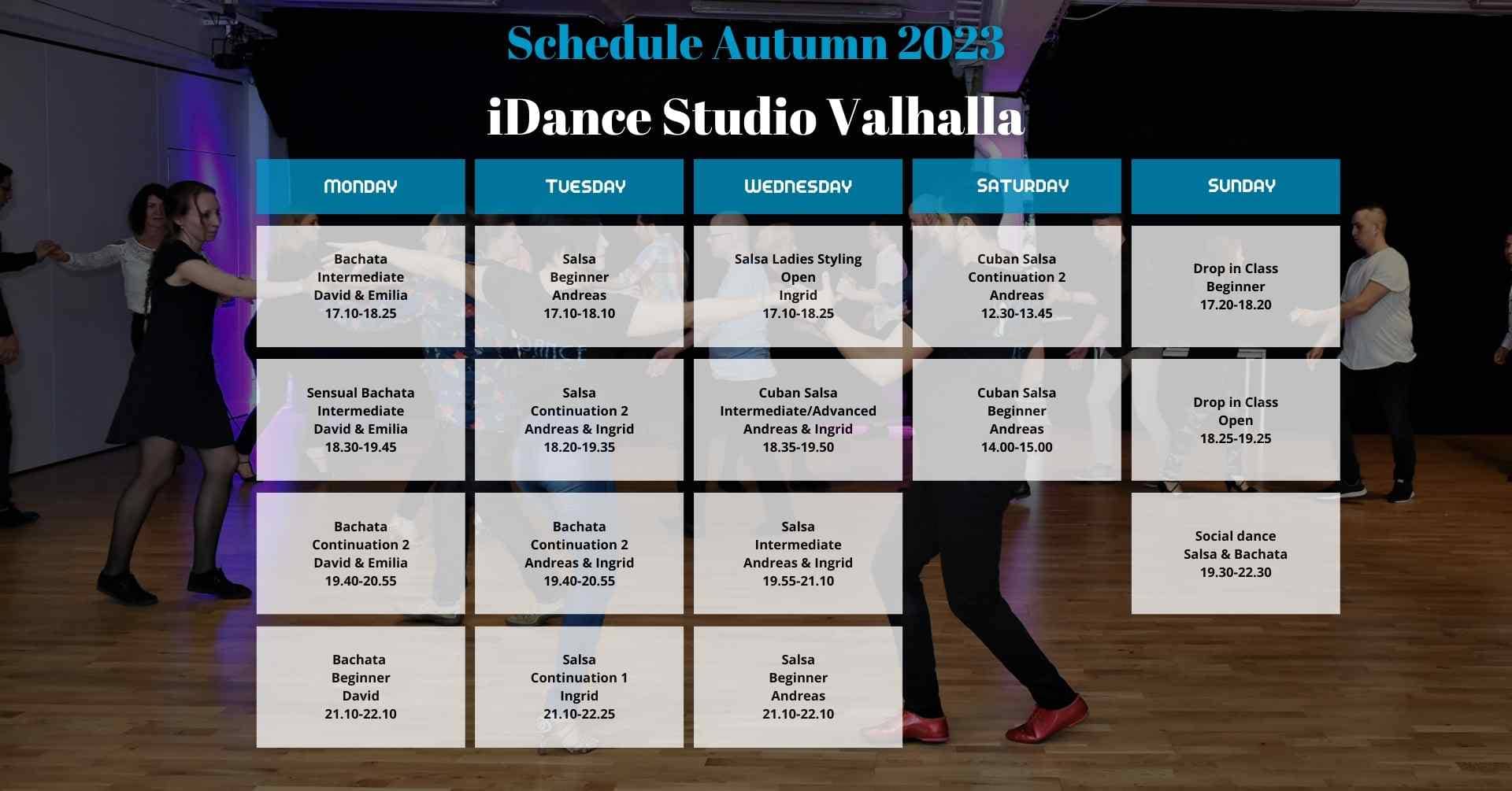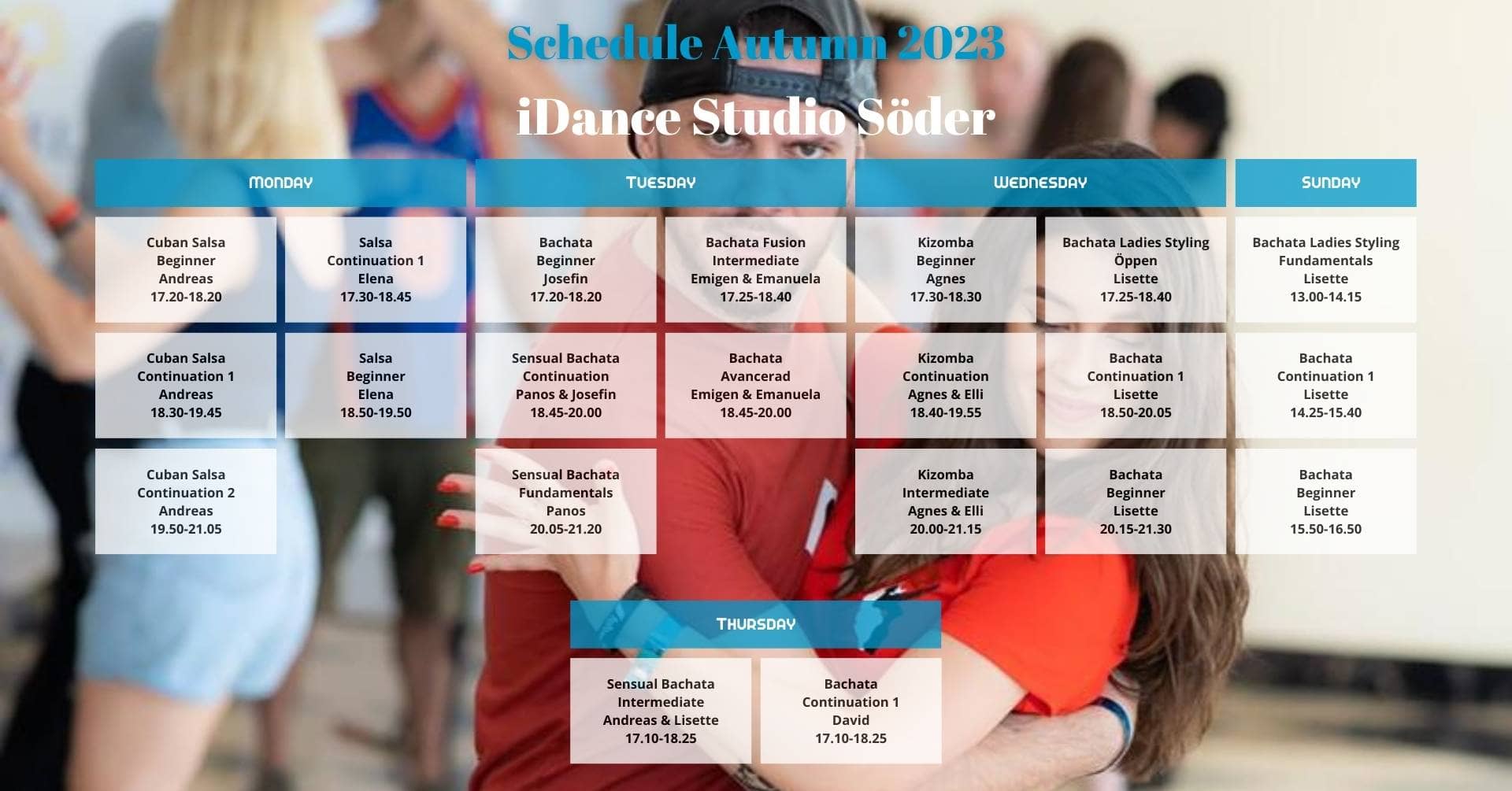 The courses are divided into different levels of difficulty. At all levels, the course selection varies each round so you can stay at the same level until you feel that what we teach has become too easy. There is a lot to learn at each level so going to a higher level before you are ready will not make you improve faster. 
For those who are new to the dance style. We recommend that you take 1-2 courses at this level, (0.5-1 semester) at this level. If you consider that you have mastered the turns well at this level, you can continue at the next level.
Improver is the level for those who have mastered the basics of the dance style. You have taken at least one basic course and can handle the turns and movements in the basic course. We recommend going through this level 2-3 times or until you feel like you want more of a challenge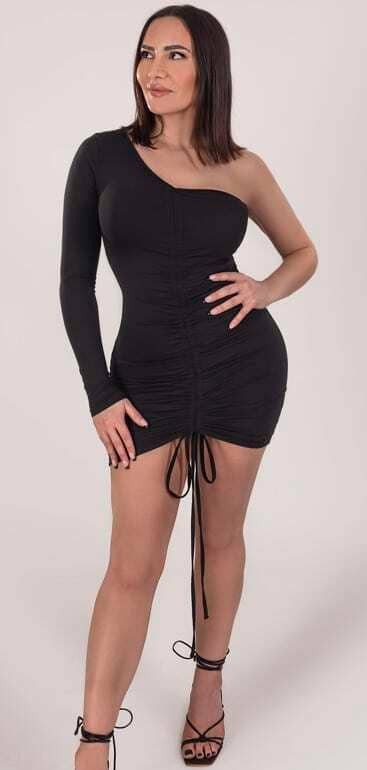 The Intermediate level is for you who have danced the dance style for at least a year and feel comfortable with the basic turns and movements in the courses and on the social dance floor
For those who have danced the dance style for several years and regularly dance socially, you master a large variety of turns and movements and are able to dance without actively thinking about the dance floor. We go through advanced moves and refine our technique to handle more difficult rides and sequences
Do you want to register for a course?
Before the course starts, it is fine to register via our registration form at idance.se. After the course starts, it may still be possible to register for a course by contacting us at info@idance.se or on 0768805555
iDance Studios Valhallavägen
Valhallavägen 55 (Technical University)​
Most of our courses are held in our newly renovated premises at Valhallavägen 55. The premises are located at the intersection between Odengatan and Valhallavägen and are located right next to the Tekniska högskolan metro station. The entrance is 3 more doors towards the subway drop from the residential entrance where it says 55. 
iDance Studios Söder
Tjurbergsgatan 27 (Skanstull)
From January 2023 we will hold courses and social dance in our new studio on Tjurbergatan. The studio is located between Ringen and Skrapan and with less than 3 minutes' walk from the metro station Skanstull, it is easy to get to regardless of where you live.